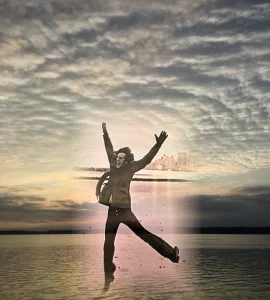 David grew up on the west end of a small Kansas farm town. The sunsets over the vast plains were spectacular. The unpolluted night skies were a deep dark void with piercing stars and frequent surprises like vivid constellations, meteor showers, satellites, eclipses and occasional glimpses of the aurora borealis. He had big dreams and, after many viewings of The Wizard of Oz, truly believed that there was a yellow brick road and that he would be possibly Dorothy's brother. He followed that road to the mountains of Colorado, graduating from high school in Denver, then graduating from Carnegie-Mellon University in Pennsylvania. Writing and directing musicals for his high school and later CMU's Scotch N' Soda Club, he won some awards and landed a music publishing deal in New York with Chappell Music and had a show on Broadway by the time he was 22.
While in New York, David composed music and lyrics for television (9 of his CBS/Fox Educational Videos achieved Gold Status), theatre (Elizabeth 1, Magic Show, Seesaw) ad campaigns (Hallmark, AT&T, Mercedes Benz), and played the cabaret circuit with his own band. He scored several films and wrote the title song for Warner Brothers' So Fine starring Ryan O'Neal. But David had other interests and ideas that drew him into psychology, education and spiritual studies. He started searching for the codes – the signs from some force that gave meaning to our lives. This led to a Ph.D. in Interdisciplinary Arts and a focus on creative process that evolved into founding and serving as the original artistic director of Lovewell Institute for the Creative Arts. Meanwhile, David moved his family from New York to Florida to get closer to nature and forge a new direction.
Inspired by Rudolph Steiner, Shinichi Suzuki, Maria Montessori, and Elliot Eisner, David continued to develop the Lovewell Method into a dynamic arts education learning methodology practiced in schools and theatres in Fort Lauderdale, Columbus, New York, Las Vegas and internationally in Sweden, Russia and Italy. He taught Interdisciplinary Arts and Creative Process at Nova Southeastern University while he continued to write his musicals (Nefertiti, Hard Road To Heaven, Heaven's Balcony, Surviving The Moonlight).
Through his own artistic work, his family, and his experiential projects in education, David has learned to create new realities, and to empower others to create their own new realities. Enjoy exploring David Sheridan Spangler's official website.
David Spangler (Music/Lyrics) BIO
David has composed music for the Broadway productions Elizabeth I, The Magic Show and Seesaw. In New York he directed Brothers at LaMama and Goodbye, Harry at the Ballroom. He has written and/or directed at various regional theatres including Nefertiti at Chicago's Blackstone Theatre, Diversions and Delights at the Caldwell Theatre, The Cover of Life at Key West's Red Barn Theatre, Sweet Mistress at the Barter Theatre, Smoke on the Mountain at the Salina Theatre, Children of the Sun at the Tennessee Williams Fine Arts Center, and the Carbonell Award-winning world premier of Chaplin – the Musical at the Shores Performing Arts Theatre in Miami. He has also composed music for several feature films including So Fine, Chapter Zero and Little Girl. As music director, David wrote and produced 35 songs for the Emmy Award winning children's TV series, Romper Room & Friends (9 CBS/Fox videos achieving "Gold" status). He received his Ph.D. from Union Institute & University, and is the founder and former artistic director of Lovewell Institute for the Creative Arts. David is currently director of Interdisciplinary Arts at Fischler School of Education and Human Services at Nova Southeastern University.
DAVID SPANGLER, Ph.D. 
Dr. Spangler graduated from Carnegie-Mellon University with post-graduate work at the University of Pittsburgh and Kansas State University and earned his Ph.D. at Union Institute and University, where he served as an Adjunct Professor of Theatre. He has worked professionally in theatre, film, and television as a director, writer, composer, and performer. His Broadway credits include The Magic Show, Seesaw, and Elizabeth I. In New York, he has directed Brothers at the LaMama Theater, and Goodbye, Harry at the Ballroom. He has also written and directed for numerous regional theaters including the Papermill Playhouse, the Lenox Art Center, Barter Theatre, Village Theatre, and is a past recipient of a Carbonell Award for "Best New Work." In addition, David directed Mame for the grand opening of the Jerry Herman Ring Theater at the University of Miami, and has composed music for several major Hollywood feature films.
Recent productions of his musicals: Surviving The Moonlight, Play It By Heart, Heaven's Balcony in Seattle and Nefertiti at Ft. Lauderdale's Parker Theatre and at the Human Race Theatre in Dayton. He has also written and produced 35 songs for the Emmy Award winning Romper Room & Friends (9 CBS/Fox videos achieving "Gold" status) and produced numerous television commercials for Hallmark, Folger's, and Mercedes Benz, AT&T and other national accounts. Mr. Spangler is founder and artistic director of the internationally known Lovewell Institute (www.lovewell.org.) a not-for-profit arts education methodology for creating original educational works in theatre, music, dance, design. Lovewell Institute sponsors international cultural exchanges for teenagers and college students. As an Interdisciplinary Arts administrator and consultant, he has served in various capacities with the Miami City Ballet, Walt Disney World Entertainment, the Theatre League of South Florida, the Arts Advisory Committee for the Broward Public Schools, and was appointed by the Florida Secretary of State to serve as a grant panelist and evaluator for the State Division of Cultural Affairs, and the Broward Division of Cultural Affairs. Dr. Spangler has conducted seminars on creative process and transdisciplinary arts at national and international conferences, and his articles have been published numerous academic journals.